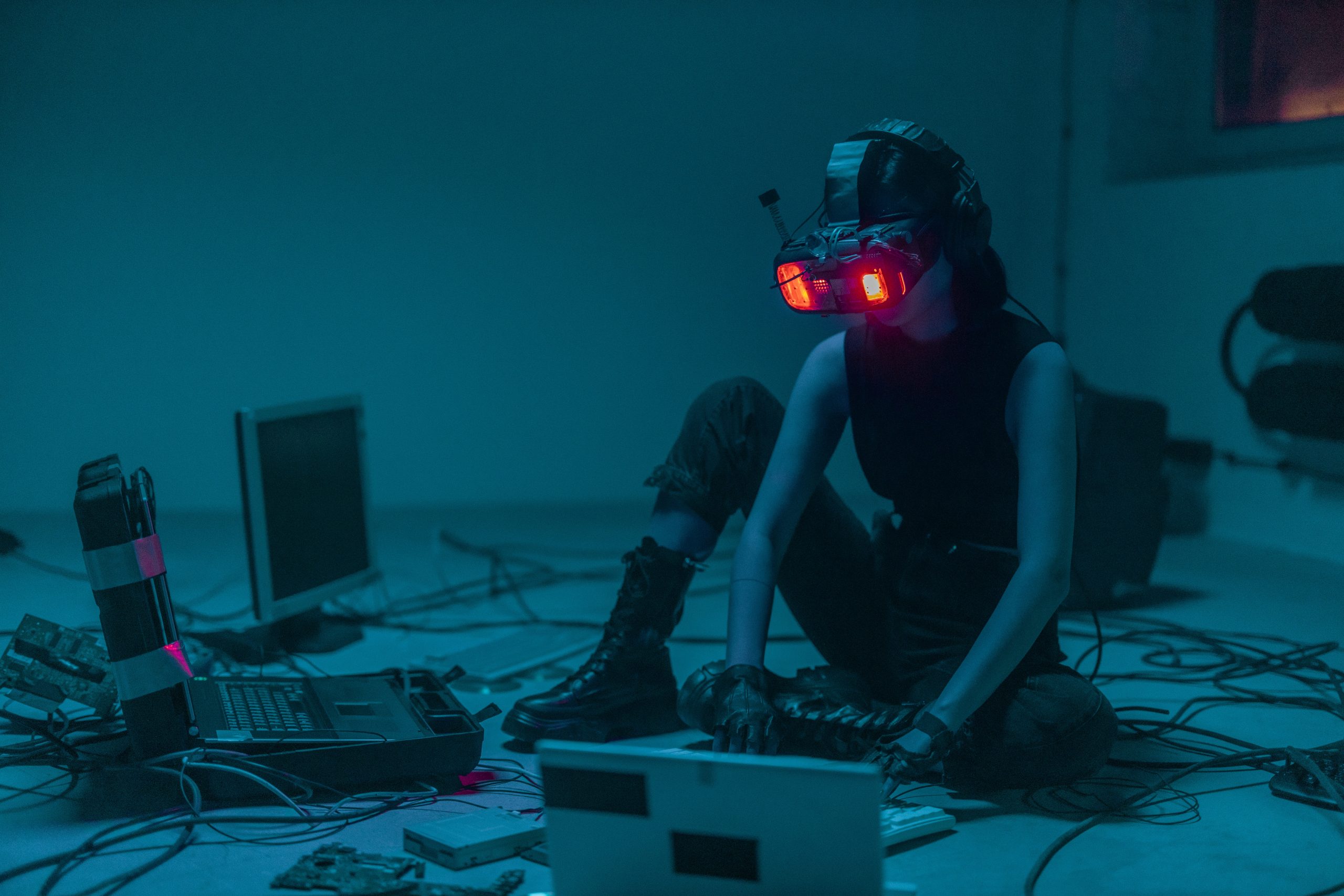 SCCM 1606 Update
New features of SCCM 1606
So what was the most exciting thing released this month? Well if you said Pokemon GO, you are on the wrong blog.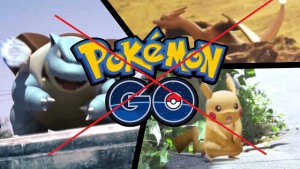 It was in fact the release of a well received update to System Centre Configuration Manager, known as update SCCM 1606.
SCCM 1606 (released on the 22nd of July 2016) introduces some great new features to an already excellent product by Microsoft. Particularly new enhancements in application management, deployment and provisioning, the experience of the end user, security and data protection and content distribution. Administrators that use SCCM in a hybrid mode with Microsoft Intune receive additional functionality. This update also includes support for the Windows 10 Anniverary update.
A quick overview of the new features of SCCM are;
Windows Information Protection (formerly EDP) features allow you to create and deploy information protection policy, including the ability to choose your protected apps and define your EDP-protection level.
Windows Defender Advanced Threat Protection features enable the ability to on-board and off-board Windows 10 clients to the cloud service and view agent health in the monitoring dashboard (requires a Windows Defender ATP tenant in Azure).
Windows Store for Business Integration allows you to manage and deploy applications purchased through the Windows Store for Business portal for both online and offline licensed apps.
Windows Hello for Business policies for domain-joined Windows 10 devices managed by the Configuration Manager client.
---
Updating SCCM to 1606
If you cannot see the SCCM 1606 update in your console (go to Administration, then expand Cloud Services, then highlight Updates and Servicing there is an available powershell script you can run that is supplied by Microsoft to kick off the download. (SCCM 1606 Powershell script here).

---
As in the above picture, you can see that the 1606 update is still downloading. You can check to see the download status, by looking in to the dmpdownloader.log.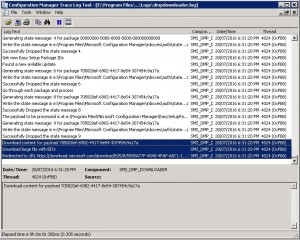 ---
There have been some reports of the download freezing. If after sometime you refresh the console and the update is still shown as downloading, restart the SMS_EXECUTIVE service.
Once the update has downloaded, you can start to plan for the update process. As always, make sure you have a recent backup or snapshot prior to upgrading the system, then highlight the SCCM 1606 update, RIGHT CLICK and choose Run Prerequisite Check.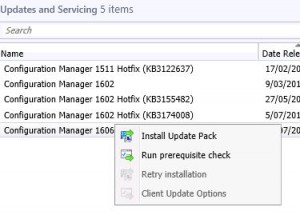 ---
Give SCCM some time to verify the update is suitable for your environment. You can view the ConfigMgrPrereq.log file (should be located in the root of your C Drive) to see if there are any issues.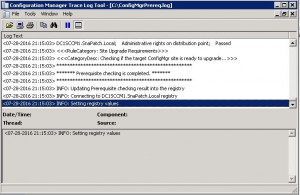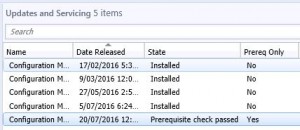 ---
Once you see Prerequisite Check Passed , again highlight the SCCM 1606 update, RIGHT CLICK and then choose Install Update Pack.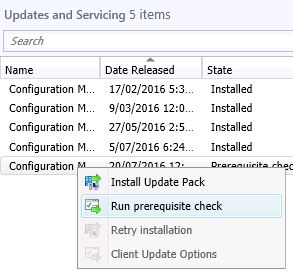 ---
Now we start the installation. Click on NEXT.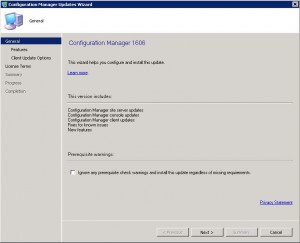 ---
Next you have the option to install
VPNv2 support for third party providers
Passport for Work
Pre-Declare Corporate Owned Devices
VPN for Windows 10
Switch Software Update Point
Choose the options you wish to install then click NEXT.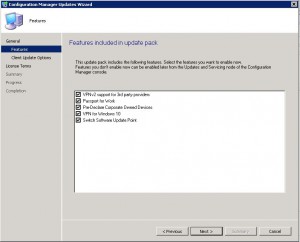 ---
If you have a Pre-Production environment you can select to deploy the client update to them before you do a full scale deployment to Production. As this is one of our many test labs, Ill choose to Upgrade without Validating. Click on NEXT.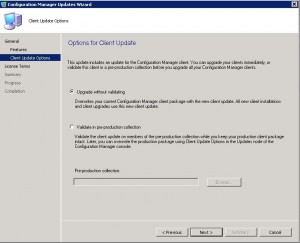 ---
Accept the license terms and click NEXT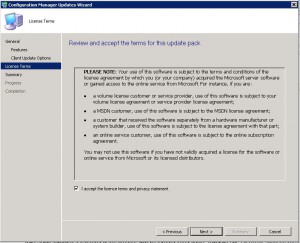 ---
On the Summary Tab, check that you are happy with the selection then click on NEXT again to proceed to then start the installation.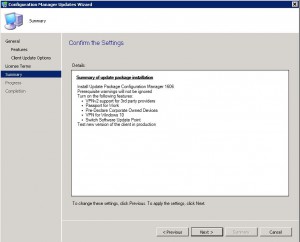 ---
All going well, the progress of the installation will take some time, so be patient. You should finally see the update has now been completed and can click on CLOSE