SnaPatch Notifications
SnaPatch provides a number of email notifications to keep you constantly informed throughout the Snapshot and Patching Process.
You may select to be notified when a job starts, snapshots are completed, when patching is complete and when snapshots are due to be deleted.
An email notification to indicate a job has started will list all the servers that are part of that job.
Once snapshots are completed, an email indicating which servers have had snapshots successfully taken (and any that have failed) will be sent to the address you specify.
A final email will be sent detailing a summary of the results. Servers that have had patches deployed will be shown with the number of updates installed against the number of updates deployed. Below you will find some example notifications.
Email Notification informing you that a job has started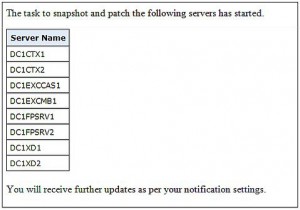 The above Email Notification is the first notification you will receive. It details the servers that you have selected to go through the Snapshot then Patching Process.
Email detailing the result of the snapshots

This email details the servers that have completed had a successful Snapshot complete. If there was a failure to complete a snapshot, then those server are excluded from the Patch Deployment.
Email listing all the servers that were patched and the result

Servers that have progress through to the update deployment are now shown. Details are provided showing how many updates installed successfully per server.
Email notification to inform you before snapshots are deleted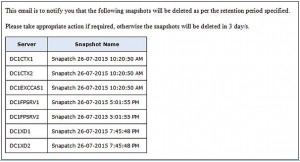 The above notification is SnaPatch notifying you that it will delete the snapshots according to your snapshot retention settings.