How to update to KB3209501 for Microsoft SCCM 1610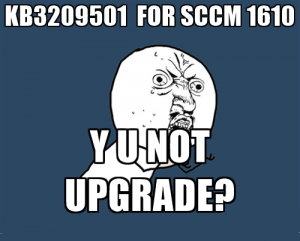 An update was released this week for SCCM 1610 KB3209501. This update fixes the following issues with Microsoft SCCM 1610;
After you upgrade from Configuration Manager version 1606 to version 1610, Software Center does not open on client computers. This issue can occur if an application is deployed to the version 1606 client after the site was upgraded to version 1610. Additionally, you receive the following error message:

Software Center cannot be loaded. There is a problem loading the required components for Software Center.

The SMS Agent Host process (ccmexec.exe) can use 100 percent of available CPU time. This issue occurs if the client is currently downloading content and loses connectivity to the Distribution Point. The Data Transfer Service component on the client continues to retry the connection quickly for features that can be retried (such as a time-out). This causes the increase in CPU usage until the Content Transfer Manager job times out.

Improved support for handling multiple range requests to the Background Intelligent Transfer Service (BITS) for Windows Express Update Files.
When you click the notification that is generated by Windows Hello for Business, the Configuration Manager Software Center is opened instead of the expected Hello for Business application.
The SMS Executive Service can end unexpectedly when the Cloud Management Gateway and Network Device Enrollment Service are collocated on the site server.
The data collecting process that is used to migrate from a site version earlier that Configuration Manager version 1606 fails when you query

Boundary Group

data. The Migmctrl.log file contains a

System.Data.SqlClient.SqlException

exception that references the

BoundaryGroup

table.
Manual or automated (scheduled) deletion of user discovery data fails on the Central Administration Site. This issue occurs because a read-only site table is referenced in the deletion trigger.
The Setup Windows and ConfigMgr task sequence does not install the Configuration Manager client on Windows 7 computers.
Task sequence deployments that have a great effect on the user may fail because of a missing policy. This issue occurs for task sequences that were created before the upgrade to Configuration Manager version 1610.
Task sequences that are configured by using the Access content directly from the distribution point option freeze when they try to download content.
After you upgrade to Configuration Manager version 1610, you receive the following error message when you try to deploy task sequences:

The selected task sequence uses an invalid package or application reference. Use task sequence editor to correct the error or select a different task sequence.

Note This error message occurs randomly for task sequences that reference other packages or applications.

The Updates and Servicing node is missing from the Configuration Manager console after you do a site recovery. This issue occurs when the Reinstall the site server and Use a site database that has been manually recovered options were selected in the recovery process.
---
Update to KB3209501
So now that you know what KB3209501 fixes now just follow the below tasks to update your SCCM environment.
Open your SCCM console and navigate to Administration, Cloud Services and highlight Update and Servicing

---
Next, highlight update KB3209501, then right click and choose Run Prerequisite Check.

---
Give the prerequisite checks sometime to complete.

Keep refreshing the console to see when it has completed.

---
Once the KB3209501 prerequisite checks have passed, again highlight the update and then right click and choose Install Update Pack.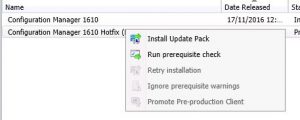 ---
You are now presented with the Configuration Manager Updates Wizard. Select whether you want to ignore any prerequisite check warnings if you received them or not and then click Next.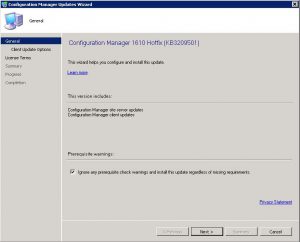 ---
On the Client Update Options tab, you can select to update without validating against your preproduction environment before updating your production environment. As this is one of our many labs, I have chosen to go ahead without validating. While this is a lab, not everyone can has his luxury, so remember It is always good practice to install any updates in preproduction prior to production.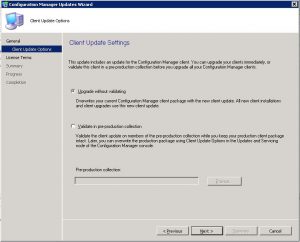 ---
On the License Tab page, confirm you accept the license terms and privacy statement and then click Next.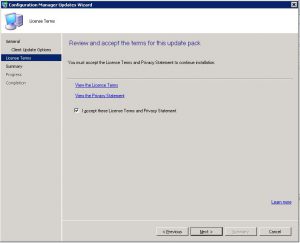 ---
Confirm what is shown is on the Summary Tab is correct and then click Next.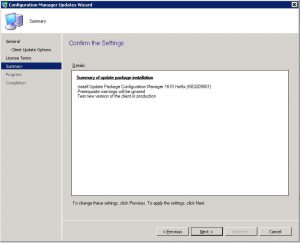 ---
The installation will no be performed in the background, so on the Completion Tab click Close.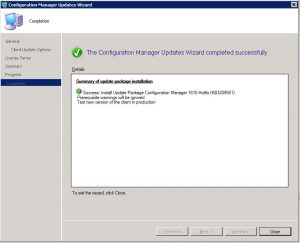 ---
As you can see, KB3209501 is installing in the background. For my lab, it did take some time to finish so prepare to be patient.