How to snapshot multiple VM servers with SnapShot Master
The need arises at times for the creation or deletion of snapshots of multiple VMs in unison. Creating snapshots of multiple VMs (virtual servers) for VMware's Vsphere or even for Microsoft's HyperV with SnapShot Master is a relatively easy task. Hopefully you have installed and are running SnapShot Master in your environment, if not, you can download and request a 30 Day trial key and try it out for yourself.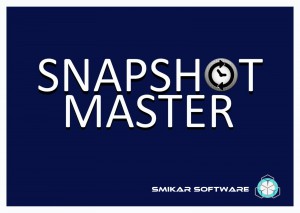 SnapShot Master can do this synchronously or asynchronously. This can keep systems that need to be in sync, have snapshots taken at the same time, or one after the other. To learn more about the functions of SnapShot Master, click this link.
---
SnapShot Master Console – Snapshot Multiple VMs
Open you SnapShot Master console and let it synchronise with your Vmware or HyperV environment. Depending on your virtual environment, this may take some time.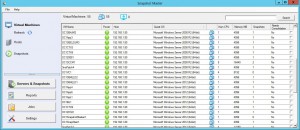 ---
Virtual Machines Populated.
Now that the console has populated, Tick the checkboxes of the corresponding virtual machines that you wish a snapshot to be performed for.

---
Virtual Machine Selection
Once you have selected the multiple VMs for a snapshot, right click on any VM and scroll down the drop down menu to Selected VMs then across to Take Snapshot.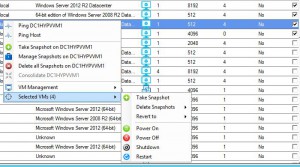 ---
Snapshot Name
Next you are required to give the job a Name and Description. Click OK when ready.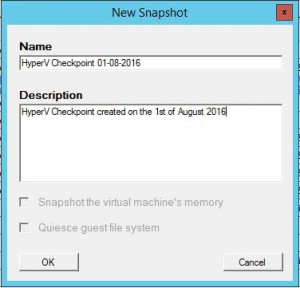 ---
Execute or Schedule Job
You are now prompted to either Execute Now or Schedule Job. If you choose to execute now, the job will start to immediately snapshot multiple VMs. To schedule the snapshot for a later time, choose Schedule Job.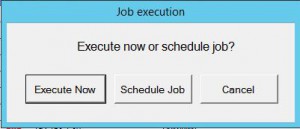 ---
Schedule Time
We now need to create a schedule for when you wish the snapshots to be performed. Click on New in the scheduling window and set the Date and Time then close the Windows.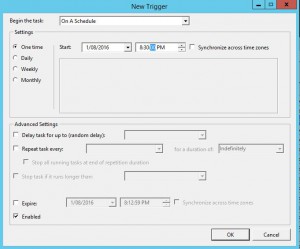 ---
SnapShot Master Notifications
So thats all there is to it. You have chosen the virtual machines that require a snapshot, set your snapshot schedule and SnapShot Master will complete all this. If you have setup email notifications, you will receive emails detailing success and any failures.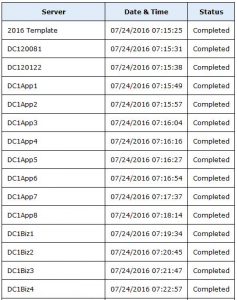 Taking a snaphot multiple VMs has never been easier than with SnapShot Master. To learn what else SnapShot Master can do, other than snapshot multiple VMs, click this link.