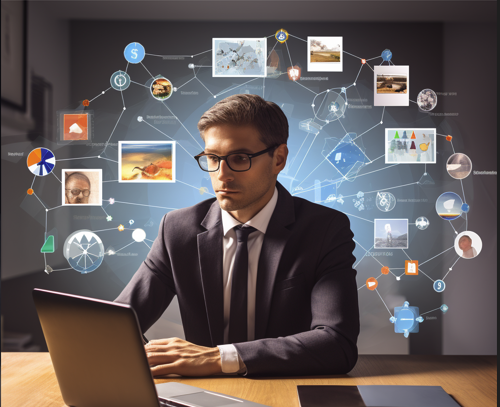 Key Takeaways:

Enhanced integration and document management functionalities
Introduction of exciting features like Syntex image tagger and Loop components in Outlook Mobile
Addressing user challenges through new updates

---

Enhanced Integration and Document Management

In the realm of collaborative platforms, SharePoint Online stands as a robust solution that continually evolves to meet the dynamic needs of modern enterprises. The 2023 updates have notably elevated the platform's capabilities, particularly in terms of file and document management and integration with other Microsoft 365 offerings.

File and Document Management Improvements

SharePoint Online has always been recognized for its superior file and document management capabilities. The 2023 updates have brought a more streamlined approach to managing files, with enhancements allowing for the storage of documents in structured "document collections" within designated spaces like OneDrive or team sites. Furthermore, the robust permissions feature ensures a secure environment by allowing users varying access levels, from full control to view-only, ensuring that sensitive information remains protected​1​.

Mastering Group Creation in SharePoint – Delve into SharePoint Groups, a fundamental feature for collaboration.

Integration with Other Microsoft 365 Offerings

The integration between SharePoint Online and other Microsoft 365 offerings has been significantly enriched. Features like a customizable Viva Connections mobile dashboard and Loop components in Outlook Mobile have been introduced, providing a more cohesive and interactive user experience across the Microsoft ecosystem. These features not only promote ease of access but also facilitate seamless communication and collaboration among teams, irrespective of their geographic locations​2​.

Unveiling SharePoint – Explore SharePoint as a cornerstone for fostering collaboration and managing content.

Cloud Storage Manager Map View

---

New Offerings and User Experience Enhancements

The 2023 updates bring forth a bounty of new offerings and user experience enhancements that are designed to tackle the contemporary challenges faced by organizations. These updates are a testimony to Microsoft's commitment to delivering a user-centric platform that addresses real-world challenges.

Microsoft Syntex Enhancements

Microsoft Syntex has seen notable enhancements with the introduction of an image tagger and a prebuilt model for contracts. These features leverage AI to provide intelligent content services that automate the tagging and categorization of images and documents, thereby saving time and reducing manual effort.

What is a SharePoint Site Collection? – Understand the basic structure of SharePoint and its utility in handling internal processes.

Addressing Challenges and The Growing Ecosystem


In the rapidly evolving digital landscape, user challenges are inevitable. Microsoft, with its SharePoint Online 2023 updates, aims to address some of these challenges, making the platform more user-friendly and efficient. Meanwhile, the SharePoint ecosystem continues to grow, reflecting the platform's robustness and adaptability.


Addressing User Challenges
The latest SharePoint updates bring a range of exciting features designed to further enhance its capabilities and functionalities, aiming to address some of the most pressing challenges faced by users. Whether it's streamlining workflow processes or ensuring data security, SharePoint Online is continually evolving to meet the diverse needs of its user base​

Microsoft SharePoint Best Practices – Explore best practices to enhance user engagement and experience.
The Expanding SharePoint Ecosystem

SharePoint's rapid growth is a testament to its efficacy as a collaborative platform. Now powering over 200 petabytes per month, SharePoint is facilitating new experiences across Microsoft 365, OneDrive, Microsoft Teams, and more. The integration and interoperability between these platforms enhance productivity and ensure a seamless user experience​

Conslusion
The 2023 updates to SharePoint Online signify a significant stride towards a more integrated, user-friendly, and robust platform. As SharePoint continues to expand its ecosystem, integrating seamlessly with other Microsoft 365 offerings, it's evident that the platform is evolving to meet the contemporary needs of modern enterprises. The new features and enhancements not only address the challenges faced by users but also pave the way for a more collaborative and efficient digital workspace.
Differences Between SharePoint On-Premise and SharePoint Online – A comparison to understand the evolution and the benefits of SharePoint Online.