Software Beta Testers Wanted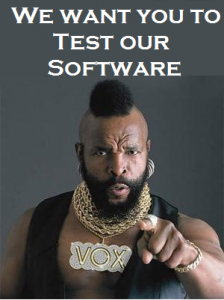 If you have an interest in Automation, Orchestration, Cloud Technology (Microsoft Azure and Amazon Web Services), Microsoft SCCM, Microsoft Hyper-V, VMWare ESXi we want you to Beta test our software. SmiKar Software plan on developing a massive suite of products that will remove the mundane and repetitive tasks every Administrator dreads. This will enable the Administrator to focus on the more important and exciting tasks.
As part of the Beta Test Program for SmiKar Software you will receive access to our current and upcoming products, all designed with making the System Administrator and DevOps life easy.
To be part of this program you must be willing to test and provide feedback on the software we develop. All your feedback will shape our up coming future and current products.
So what do you get for participating in this Beta Tester program you ask? For all feedback that you provide you will get a fully licensed copy of the software once it goes live. Remember, your feedback will shape the products that we develop.
Simply fill in your details below and we will add you to the Beta Testers group.